---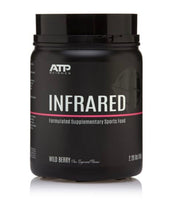 INFRARED is a "non stim" pre-workout that uses quality ingredients in effective concentrations and supports genuine cellular energy production that you can feel, without the need for caffeine and / or stimulants. This is a "formulated supplementary sports food" designed to enhance the quality of athletic performance and provide sportsmen and sportswomen with an unfair but totally legal advantage over the competition.
INFRARED is the result of thousands of hours of research, clinical and university studies on the properties of key performance enhancing botanicals, amino acids and electrolytes. It provides athletes with more than the result of that key ingredient research because when their properties are combined, the synergy will help athletes to gain superior results and to achieve their "personal best" performance.
What can INFRARED do for you?
Go harder for longer with less pain

Improve power

Improve endurance

Enhance vasodilation of peripheral vasculature to enhance blood flow to your muscles and brain
Enhance stamina and endurance and delay onset of fatigue and weakness by:
Enhancing genuine energy production

Buffering metabolic waste

Reducing the production of metabolic waste

Enhancing intramuscular antioxidants and acidity buffers

Supplement, support, restore and maintain electrolyte balance for ideal intracellular: extracellular water ratio.