---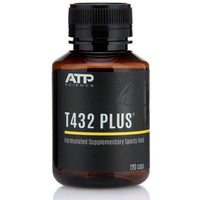 T432 Plus is a unique combination of super foods, herbs and spices from all over the world. 
It includes Ayurvedic, Traditional Chinese herbs, Western and South American superfoods selected, prepared and combined. 
The super foods in this product have been combined with the dietary cofactors such as: Zinc, Selenium and Iodine.
Throughout history these ingredients have been used in varying amounts in the diet with seasonal fluctuations. Discuss your dosing strategy with us to get the best results for you.
ATP recommends a 4 week break after using for 12 consecutive weeks.