---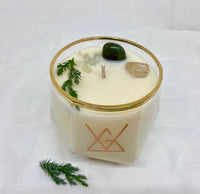 Limited Edition Crystal Spruce Picasso Luxury Candle
The stunning geometric cubism design on these glass jars is simply beautiful and is complimented by a golden rim.
When the candle burns each of the cubist shapes refracts the pearlescent light of the jar.
These gorgeous glasses are produced in small batches by a hand mould process.
These are Handmade luxury candles with 10% pure essential oils blended into the vegan soya wax and healing power crystals.
These beautiful glass jar candles are designed to fill your home with amazing aromatherapy scent, whilst surrounding you with healing energy that constantly pours from the crystal as it bathes in the melted wax.
Burn anywhere in your home or workspace that would love to be soothed and scented.
• Natural vegan soya wax
• Pure essential oils
Healing crystals

Plant botanicals
I make every one of these gorgeous candles and fill them with love.
A soothing luxury healing candle filled with scents of Bergamot, Spruce, Sage and Cedarwood plus other secret pure essential oils delicately blended to surround you with relaxing calming scents.
Hand-finished with a Clear Quartz Point, Tumbled Moss Agate and Crystal Chips and a spruce sprig