---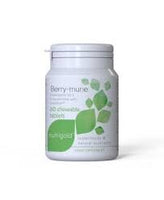 Sale
Nutrigold Berry-Mune tablets are a food-based source of prebiotics and antioxidants including anthocyanins and other naturally occurring polyphenols from an Elderberry Complex and Bilberry fruit powder. They are designed as easy to take and tasty chewable tablets to support immune and digestive health in children and adults.
Key ingredients include:
Elderberry Complex - a potent 65:1 black elderberry juice concentrate (min. 3% polyphenols), produced by solvent-free and low temperature processes to ensure optimal anthocyanin and polyphenol (antioxidant) content.

A clinically studied low-FODMAP friendly prebiotic fibre (Sunfiber), which may support normal gut bacteria, and balances the elderberry juice concentrate.
The use of black elderberry in human health dates back to ancient times and is detailed in the writings of the philosophers and physicians of ancient Rome and Greece. Elderberry fruit is a source of numerous polyphenols (potent antioxidants) including anthocyanins, proanthocyanidins/flavanols, flavonols, and phenolic acids. Anthocyanins are a class of polyphenols found at high levels in berries, and give rise to their red, purple and blue colors.
Most elderberry juice concentrates lack fibre, which is removed during the juicing process. Juice concentrates may also lose many of their natural antioxidants with high temperature drying. Nutrigold's Berry-Mune is made with a solvent-free process, and utilises a patented, low-temperature infrared drying to ensure the potent antioxidants and natural compounds found in elderberry are not compromised or lost. Tests have shown that Berry-Mune contains higher levels of C3OG and gallic acid, two of the more processing-sensitive antioxidant compounds, than other encapsulated elderberry products.