---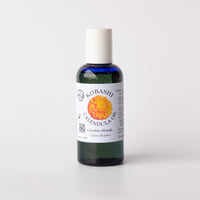 KOBASHI CALENDULA OIL (AKA MARIGOLD)
Kobashi grown organically, hand picked flowers; DOUBLE CONCENTRATED infused in organically grown sunflower oil. Use neat or to add to carrier oil, ointments, creams and lotions.
Air dried at room temperature in our fan drying room, powered by solar electric energy.
We now infuse the oil twice, so now twice as concentrated.
LATIN NAME: Calendula officinalis
SOURCE: Infusion of flowers in organically grown Sunflower oil
COLOUR: Deep orange yellow.
ORIGIN: Devon, England.
AROMA: Faintly sweet, nutty
QUALITIES: Also known as marigold, it has long been known for its healing properties. It is soothing to sore or inflamed skin, and is often found in ointments, creams and lotions. Its actions are slightly anti microbial, antiseptic and regenerating. Use neat or at up to 25% in a carrier oil. The flowers are grown on certified organically grown land and are carefully hand picked and then infused in organically grown sunflower oil; the oil act by drawing from the plant those molecules which are dispersed in the fatty acids of the oil.
A member of the Compositae family, Calendula is a herbaceous annual up to 50 cm high. The flowers are vivid orange and the stems sticky when cut. In India, which may have been the plant's country of origin, the gods and goddesses adorning the temples are crowned with wreaths of marigolds. These flowers are the 'marybuds' of Shakespeare, the prefix 'Mary' coming from the belief that they were worn by Our Lady. In the sixteenth century, grocers in many countries sold dried marigold petals for use in drinks, infusions, broth's and for medicaments mixed with other herbs
We grow the plants here in Devon, on our property and have grown them in rows between lavender and catnip; in this way they help to suppress the weeds. The colours are stunning - purple blue of the lavender and the vibrant orange of the Calendula. We have only grown a small amount this year as a trial but will be collecting the seeds and planting on a larger scale in the spring. The land is certified organically grown, as were the initial seeds.
All oils should be kept out of eyes. Do not put on top eye lid as this may run into eyes. You should be able to use at 100% unless you are sensitive.