---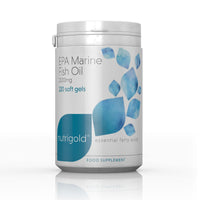 Nutrigold Marine Fish Oil capsules contain the omega 3 essential fatty acids EPA and DHA, which contribute to normal function of the heart, in vegetarian capsule shells. The premium oil, sourced from ecologically clean seas, undergo selective absorption of pollutants like heavy metals, dioxides and PCBs to ensure purity.
Use: 1-4 capsules daily with food or as directed by a practitioner.
Storage: Store in a cool dry place out of direct sunlight
Cautions: Keep out of reach of children. Do not exceed the daily recommended intake. This product should not be used as a substitute for a varied diet. Do not use if lid seal is broken. If you take anti-coagulant (blood-thinning) medication please consult your doctor before taking this product.