---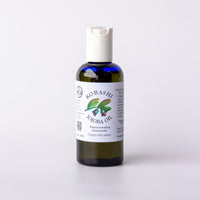 KOBASHI JOJOBA OIL 100% Pure Organic
LATIN NAME: Simmondsia chinensis.
SOURCE: A liquid wax ester derived from the bean.
COLOUR: Clear golden.
ORIGIN: Argentina / Arizona
AROMA: Aromaless.
QUALITIES: Will solidify at low temperatures, so may need warming during winter. Very stable- excellent keeping properties. We use this oil in our bath, shampoo and moisturising products. Contains myristic acid, which is an anti-inflammatory. Chemically similar to and soluble in human sebum, the skins restorative fluid, making jojoba excellent for skin care: useful not only for oily or acne-prone skin but also helps dry skin conditions. Excellent hair oil and for treating dry scalp conditions.
Warm the oil and massage into the scalp and hair. Wrap in a warm towel and leave for as long as possible (overnight maybe). Apply neat shampoo ( do not use water or get the hair wet) and massage well, then rinse and wash hair as usual. Use on its own or as much as you like in a basic oil blend such as almond or Grapeseed.