---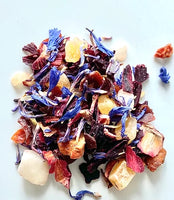 The heady scent of melon, papaya and pineapple embrace your senses with this show stopping tisane. This fruit blend is perfect to drink hot or cold simply put 1 teaspoon into a cup or if making a larger jug use a tablespoon and infuse for 10 to 15 minutes or longer for a stronger infusion.
Honestly this is blend is made,  it sells so quickly that at times we are an able to keep up with it!
Ingredients
Melon chunks, apple pieces, hibiscus, papaya chunks, pineapple chunks, rosehip, cornflower blue, peach flavour, papaya sugar, melon sugar, rice flour.