---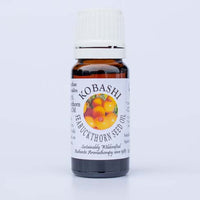 QUALITIES: Seabuckthorn is a thorny bush flourishing where other plants perish. It produces berries which have long been recognised to be rich in valuable health promoting compounds, first records of their use dating back to 8th century China. Recently, scientific studies in both Asia and Europe have confirmed this ancient wisdom.
Our Seabuckthorn oils are produced from selected raw materials, carefully processed to retain high bioactivity, Oils are produced with modern Supercritical CO2 Extraction. This means extraction at low temperatures and without oxygen, minimising oxidative and thermal stress. Supercritical CO2 extraction yields extracts which are free of microbes or their spores. It is also totally solvent free.
Packed with good fatty acids and antioxidants, Seabuckthorn oil has been found to protect and strengthen, and increase the regeneration of tissues, e.g. skin and mucous membranes. Its use has accordingly spread, for example in Russia, China and India, seabuckthorn is mainly used for the production of medicinal oils, widely available in local pharmacies.
Seabuckthorn Seed oil is an excellent source of essential fatty acids, making up approximately 70% of its composition. It contains both Linoleic acid and Alpha-linolenic acid in a well-balanced 1:1 ratio. It also contains over 140mg natural tocopherols per 100g of oil. Phytosterols are also present at around 1%, consisting mainly of beta-sitosterol. Also present are minor amounts of tocotrienols, a fascinating new group of active phytocompounds.
Tested efficiency in skin regeneration Clinical proof of efficacy, In previous studies, it was hypothesised that seabuckthorn seed oil may have an effect on skin epidermis regeneratoin. This was also supported by the traditional use of seabuckthorn oils in the treatment of mild skin damage. A study was planned accordingly, including mainly in vivo models and executed with positive and negative controls. Positive control was in all cases a commonly used medicine known to have pharmacological effect. Significance of effects was ascertained with statistical evaluation. Results from these studies showed that seabuckthorn seed oil was very effective in promoting skin health by affecting three important factors: micro-circulation, cell regeneration and inflammatory reaction.
Seabuckthorn Seed Oil study conclusions: Improved micro-circulation: Seakbuckthorn seed oil increased micro-circulation by increasing both the number of capillaries and their volume. This helps skin cell proliferation, which takes place in cases of any sort of tissue damage. Also normal cell turnover is thus helped, resulting in skin structure maintenance.
Enhanced epidermal regeneration, Seabuckthorn seed oil increased the speed of regeneration of damaged epidermal cells in vivo. Regeneration has a key role in keeping skin smooth and young.
Anti-inflammatory Effect . A remarkable anti-inflammatory effect was shown for seabuckthorn seed oil in vivo, possibly contributing to a general recovery-enhancing effect.