---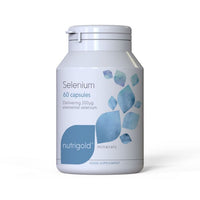 Nutrigold Selenium provides 100μg elemental selenium per capsule. Selenium contributes to maintenance of normal hair and nails, normal thyroid and immune system function and to protection of cells from oxidative stress.
Use: 1-2 capsules daily after food or as directed by a practitioner.
Storage: Store in a cool dry place.
Cautions: Keep out of reach of children. Do not exceed the daily recommended intake. This product should not be used as a substitute for a varied diet. Do not use if lid seal is broken.