---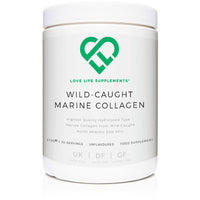 Premium Quality Wild Caught Marine Collagen

Sustainably Caught in the Pristine Waters of Norway

Type 1 Collagen Peptides - Supports Bones, Skin, Hair

Virtually Flavourless and Tasteless - Easy to Blend With Hot or Cold Drinks

Clean - No Fillers Made in the UK 
Wild-Caught Marine Collagen
Welcome to our NEW Marine Collagen which is derived from Cod Skin sustainably sourced from the North Atlantic Ocean near Norway.
These Type 1 Collagen Peptides are identical to those found in human Bones and Skin and also contain high amounts of Amino Acids to help support Ligament, Tendon, Bone, Skin and Muscle Repair.
Skin Health and Aging
Our supplier conducted a clinical dermatological study in Germany comprising women aged 40-55 using our marine collagen daily for 8 weeks. Our product was well tolerated and led to a significant increase in skin moisture, showing an average improvement of 34.8% rising to 80.1% at the highest.
Another independent study in 2013 showed that a daily intake of marine collagen peptides improved skin elasticity in a group of women aged 35-55 after 4 weeks.The same group of researchers also found a positive impact on the body's own production of procollagen type I, elastin and a reduction in eye wrinkle volume in women aged 45-65.
Our Collagen is rich in the amino acids required to build keratin – the protein that makes up hair and nails. Proline, an amino acid found in high amounts in marine collagen peptide, is also the main component of keratin.
Support Active Lifstyles
Marine collagen is unique due to its high content of amino acids – glycine, proline and hydroxyproline. It is the combination of these amino acids, the length of the peptides and their formation of the actual protein that gives our collagen unique properties such as strength, flexibility and elasticity.
By increasing collagen production, you build a sturdy collagen structure in your body and strengthen connective tissues. The stronger these connective tissues are — joint cartilage, tendons, ligaments — the lower the risk of injuries.
Our collagen also contains a high amount of protein which contributes to the growth and maintenance of muscle mass. It is also important in the maintenance of normal bones, thereby supporting an active lifestyle even in old age.
Bioavailability 
Our marine collagen peptides via mild enzymatic hydrolysis. A production process which is far gentler than the one necessary to obtain bovine or porcine peptides. Additionally, marine collagen is absorbed up to 1.5 times more efficiently* in the body than mammal collagen. Our collagen's low molecular weight of 3 kDA means that there is faster uptake and transportation of collagen peptides to skin, bones and tendons for the synthesis of new collagen.
*Sripriya, R. and Kumar, R. (2015) Food and Nutrition Sciences, Vol. 6, 1468-1478.
Sustainability 
Norway has the largest and most sustainable cod stock in the world, and Norwegian cod numbers have been at a record high over recent years. The Norwegian fishing industry is almost unique in the world being based on sustainable fishing and clear, clean waters of the North Atlantic Ocean, hence the naturally excellent quality of the product.
The Skin of the Wild Cod Fish is a by product of the fishing industry, thereby ensuring nothing goes to waste.
Our Marine Collagen is Unflavoured and has virtually no taste or smell so can easily be incorperated into your diet.
Mix 1 Scoop 10.6g into water, smoothies, coffee or your favourite beverage. Mix well and wait until the powder is completely dissolved. Drink and Enjoy!