---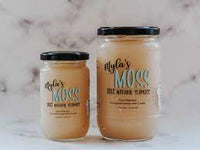 Please note, this is 'Pick Up/Collection' only.  
Open Wednesdays 3-6pm and Saturdays 10am-5pm for collection. 
What is Sea Moss?
Irish Sea moss, also known as Chondrus Crispus, is a type of red algae native to the Atlantic shorelines of the Caribbean Islands, North America, Europe.
Sea moss has become increasingly popular due to Dr. Sebi's teachings on the healing properties of sea moss.
Here's a list of a few Vitamins and Minerals found in Sea Moss;
Potassium
Calcium
Magnesium
Selenium
Vitamins A, K, and E
Zinc
Folate
Manganese
Selenium
It is one of the most nutrient rich foods nature provides and offers a large variety of healing properties and health benefits for the human body.